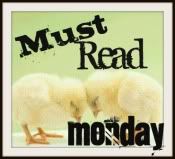 Must Read Monday is a new meme hosted by Jenna at

Fans of Fiction

. The idea is to create an

acrostic poem

about a book in the chosen category of the week.
This week's category: Favourite self-published book
Summer camp is definitely not Riley's
Idea of fun, especially since she's a
XV-year-old city girl. Her parents are

Making her attend camp
Only so they can divorce with her
Out of the way.
Now she's being bullied,

She's homesick, and
Unfortunately has been bitten by a
Monster - a werewolf. Riley
Must find a way to
Escape the monster within her before it
Ruins her chances at a normal life.

This week I chose S.M. Reine's debut novel,
Six Moon Summer
. This is a really great book and series. I actually liked the second book,
All Hallows' Moon
, more than the first, but I chose to use the first so I didn't have to worry about spoilers. Reine's writing is really great. The way she writes the transformations from human to wolf are incredibly descriptive, that it hurt me when reading sometimes. If you're a fan of werewolf stories, like I am, I definitely recommend this one!
Read my review
here
.
Find it on Goodreads
here
.
Visit S.M. Reine
here
.
Six Moon Summer
is currently on sale for $0.99 USD on
Amazon
! I highly recommend picking it up!
Feel free to try out this meme! It's a new way to introduce blog followers to new books.