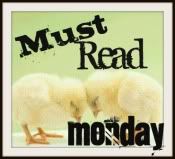 Must Read Monday is a new meme hosted by Jenna at

Fans of Fiction

. The idea is to create an

acrostic poem

about a book in the chosen category of the week.
This week's category: A book with a wonderful ending
Thisby is an island
Haunted by
Evil, flesh-eating water horses. The

Season of Fall brings the
Capaill uisce
Out of the ocean.
Racers catch and train the
Predatory horses
In an attempt to win money and
Overall bragging rights. Native

Residents on Thisby, Puck Connolly
And Sean Kendrick race for their own
Complicated reasons.
Except there can only be one winner.
So let the races begin.
This is probably my favourite acrostic that I've written for this meme. When I decided to write about Maggie Stiefvater's first stand-alone novel, THE SCORPIO RACES, the whole thing just came to me and it was really easy to write. I'm so happy it actually turned out well! I chose this because Maggie's novels tend to be open-ended and the reader can make their own conclusions about the future of the characters. And so, in my mind, the ending is beyond fantastic and definitely a happily-ever-after. I hope you like it :). Let me know in the comments.
Read my review
here
.
Find it on Goodreads
here
.
Visit Maggie Stiefvater
here
.
Feel free to try out this meme! It's a new way to introduce blog followers to new books.