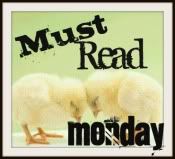 Must Read Monday is a new meme hosted by Jenna at

Fans of Fiction

. The idea is to create an

acrostic poem

about a book in the chosen category of the week.
This week's category: An amazing controversial/banned book
When his parents
Are killed in a
Terrible car accident, Jacob
Escapes the pain of
Reality by hopping on a circus train.

Full of loss and sorrow, he
Opts to join the circus and
Receives the position of vet to the

Exotic animals. While
Labouring through the Depression, they acquire an
Elephant, believing it will save their
Poor show from collapsing. With a
Hateful ring-leader,
And untimely love, this
Novel will
Teach you the
Secrets of love and trust.

Water for Elephants is one adult novel that I absolutely love. I'm not sure why it's banned/challenged other than what it says in
Books Challenged or Banned in 2010-2011 by Robert P. Doyle
, which states that a parent at a high school complained about it's sexual content. It's not really a teen book, especially because of the violence towards animals, but the sexual content isn't that strong. I doubt my acrostic made that much of an impression, but it's an amazing book that I definitely recommend!
Find it on Goodreads
here
.
Visit Sara Gruen
here
.
Feel free to try out this meme! It's a new way to introduce blog followers to new books.