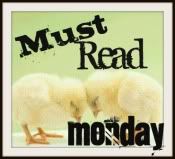 Must Read Monday is a new meme hosted by Jenna at

Fans of Fiction

. The idea is to create an

acrostic poem

about a book in the chosen category of the week.
This week's category: Best rainy day read

Somewhere on
Tiny Nantucket Island,
A girl and boy meet, and she almost
Rips his head off.
Cursed to be starcrossed lovers,
Reliving an
Old tragedy, Helen and Lucas learn
Secrets of her past, while her
Saftey becomes his main concern.
Even with the Fates against them, they are
Destined to be together.


My acrostic this week is inspired by Josephine Angelini's STARCROSSED. I read this in the summer and fell in love with it. It's a perfect Rainy Day Read because it's one you won't want to put down! So take the whole day and sit inside reading! Why bother going out in the rain? You'll definitely like this book if you like Greek and Roman mythology. It's Helen of Troy meets Romeo and Juliet.
Check out my review
here
.
Add it to your Goodreads shelf
here
.
Feel free to try out this new meme! It's fun! And it's a great way to introduce blog followers to new books.