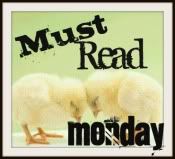 Must Read Monday is a new meme hosted by Jenna at

Fans of Fiction

. The idea is to create an

acrostic poem

about a book in the chosen category of the week.
This week's category: Fantasy
I finally got a chance to write another acrostic for this meme! I hope you enjoy it :)
The secret daughter of a
Hidden world, Meghan Chase learns
Everything is not as it seems.

In minutes, her brother's
Room becomes a portal, and
Only her best friend dares take her to the
Nevernever.

Kisses that are forbidden,
Insecurity around every corner, yet Meghan must save
Nevernever before it is
Gone forever.
I chose Julie Kagawa's
The Iron King
this week. This is the first book in The Iron Fey series. I just read it this past summer and loved it. I bought the second book, The Iron Daughter, right away. But of course, I haven't read it yet. I'm really excited to get back to the Nevernever, though!
Read my review
here
.
Add it to your Goodreads shelf
here
.
Feel free to try out this new meme! It's fun! And it's a great way to introduce blog followers to new books.