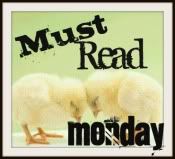 Must Read Monday is a new meme hosted by Jenna at

Fans of Fiction

. The idea is to create an

acrostic poem

about a book in the chosen category of the week.
This week's category: Paranormal

Something about
Him
Is
Very different from
Every other
Roaming wolf.

**********

Love
Is the only thing they
Need, but
Grace is losing
Everything that makes her
Real.

**********

For Sam, he has lost the
Only thing that matters.
Right now is time to
Engage in finding the
Vaccine,
Even if he
Ruins himself.


OH. WOW. I did not give myself an easy one this week! I had to pull on every creative string in my body to get this out of me! Ha.
I used Maggie Stiefvater's
Wolves of Mercy Falls Trilogy
. These are my absolute favourite paranormal books, so of course I had to use them! I tried to make each one relevant to each book without spoilers, and actually have it make sense. I think I did a pretty good job!
Add them to your Goodreads shelf
here
.
Feel free to try out this new meme! It's fun and a great way to introduce blog followers to new books.