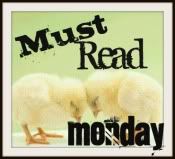 Must Read Monday is a new meme hosted by Jenna at

Fans of Fiction

. The idea is to create an

acrostic poem

about a book in the chosen category of the week.
This week's category: Dystopian

Wed unwillingly
Images of her brother
Time is ticking
Help where she least expects it
Everything feels wrong
Rhine must escape


I used Lauren DeStefano's WITHER for my first MRM post. It's an awesome book, definitely one of my favourite dystopians. You can read my review
here
.
Feel free to try out this new meme for yourself! It's fun and another great way to introduce blog followers to new books.